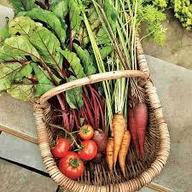 Featured Info
Join Master Gardener Jackie Campbell, Thursday, 29 April at 1 pm via zoom.
Session Vegetable Gardening: for great info on planting and maintaining a vegetable garden, including:
Crop rotation When to plant
Soil preparation Planting tips
Succession planting Companion planting
Common pests and how to deal with them
Jackie grew up on a farm in southern Ontario, and helped in her mother's large vegetable garden (and admired her grandmother's beds of perennials). During her working years, she used gardening to deal with job stress, and when she and her husband moved to Grey County from Oakville in 2003, she joined the Master Gardeners, and soon afterward received a Certificate of Horticulture from Guelph University. She grows vegetables, herbs and perennials on their property near Allan Park.
Pre-registration required; email kimm@westgreylibrary.com by 28 Apr
Contact
kimm@westgreylibrary.com
Master Gardeners Zoom session - Vegetable Gardening